All, these are our results for Round 3: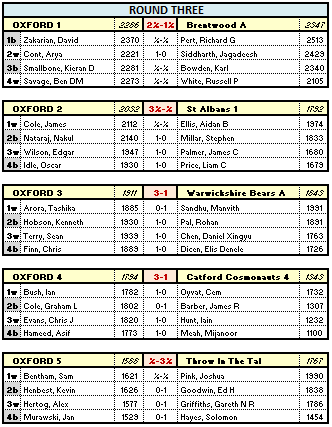 Our games are available for scrutiny here.
Before skip was properly settled into game-viewing mode, Edgar had won for Ox2 in ten moves. It seems Black tried to play the Latvian against the Vienna – unsuccessfully. Oscar & Nakul both scored emphatic Black wins – just look at the embarrassed White bishop in Oscar's game – and James, having pushed for a win, settled for a draw.
In Ox1, Arya's game was extraordinarly complicated after Black invested a rook. Arya had foreseen it and put up his defence, whereupon a further bishop sac came his way. Both players took ages over moves 24 and 25 while skip's head hurt trying to figure out the variations. Arya had it all under control and a mini queen-sac brought home the point and the match with his senior colleagues all drawing.
Ian was another quick winner as his opp grabbed a hot pawn on move 10 in the Morra and got his fingers burnt. With Chris E& Asif also winning by five past eight, Ox4 can argue they were top of the division momentarily.
Ox5's winning run was halted by Throw In The Tal. Sam won an exchange but lost it back and cashed in a draw, thereby averting a whitewash. Alex & Kev lost but that wasn't for want of effort or time spent at the board. Skip wrote Jan off around move 40 but he kept it going for a long time, past the 2-hour mark and almost turned his game around. If you play through that one, bear in mind both players were "on increment" from around move 50 and sympathise with Jan, as skip does.
Four match wins out of five is excellent – well done, troops!