Onliners, we recorded these results tonight: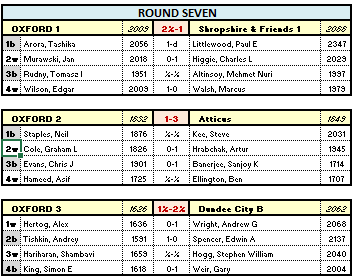 Our games are available for persual/analysis here.

Ox1: first, what happened to Tashika? Well, her opponent was barred by the arbiters pre-match for Fair Play reasons. The Shropshire skip listed him anyway. Said skip had been emailed by the Chief Arbiter eight days ago that he'd be barred, so this was a selection-??-blunder. I promptly defaulted him. Tashika wasn't put out by this: "good, I have 
Parents' Evening tonight, a test tomorrow, and I want to watch POR v SWI!" [skip hopes it was better than MOR v SPA?]

On the board, once skip settled into watching games, he found Jan & Tomasz involved in rook+pawn endgames. Tomasz's transposed into a quick draw, Jan had rather more work to do before he could secure his draw, and ran into a neat trick. Edgar maintained a plus throughout his game and wrapped his point up in a R+P endgame. That secures Division One football for our firsts in Season 7.

Ox2: Neil completed an unbeaten 5/6 season with a draw – the only regular Ox4NCLer to end up plus (apart from K & Phil, both +1 =0 -0). Chris & Graham overpressed, these things happen, while Asif registered a very cagey draw. We weren't in the hunt for promotion, Barnet A & Guildford 1 won, and we drop to fourth after Plymouth won. It will be Division 2 football in Season 7.

Ox3: Shambavi grabbed an early draw offer from her opponent – fair enough, Ox3 were outgunned by 430+ ECF-O per board! Andrey followed with a big win, unexpectedly trapping the White queen while it was busy harassing his king. That left Simon who, after sacrificing an exchange, had a sizeable initiative and skip liked his position. Sadly White found a way to confuse matters and nicked the point – undeservedly!
This means Ox3 are in a relegation position when the music stops, Barnet Knights B having a better goal-difference. Ho hum. 
Still, skip reckons 1.5-2.5 v Dundee B was an excellent result against the Pool winners. It was only the Pool runners-up Wessex C dropping a 2-2 draw with Barnet B this time that sends Ox3 down. Division 3 football in S7 might be a good thing for our thirds?
That's all, folks, for this season. Thank you for joining us and surviving! After Neil's 5/6 others on 50% were Tashika, Asif, Andrey, Alex, James, Chris, Kenneth, Dima. There were an equal number of you on "-1": Graham, Jan, Edgar, Tomasz ("draw-meister", +0 =4 -1), Kev, David, Amaan, Sean.