Onliners, we recorded these results tonight: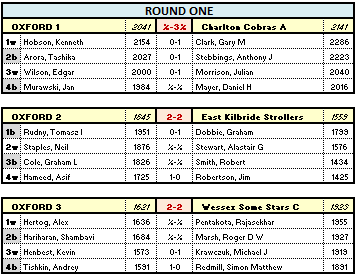 Our games are available for persual/analysis here.
Ox1: on bare stats are second-lowest rated in Pool A. Ooo-er. And we opened our campaign against last season's winners. Jan tried bravely to win an opposite-bishops endgame but was held to a draw. Tashika kept her FM oppo at bay for most of the evening, but lost at the death in the last Div 1 game to finish. Unlucky, Tashika!
Ox2: on bare stats are third-highest rated in Pool B. Is this a good indicator of likely performance over the season? Asif scored a good win, Tomasz stumbled into a lost K+P endgame and Neil & Graham both drew. An inauspicious start? It's early days.
Ox3: on bare stats are third-lowest rated in Pool A. We ran into Wessex C who were promoted from Div 2 last season. What are they doing still in Division 2? Long story. They'll still be in Div 2 next season on this showing as Shambavi & Alex scored valuable draws – skip thought Alex wasn't far off a win but he hadn't worked it out, if it was there – and Andrey made the final score 2-2. Well done, thirds! An auspicious start?
---
A postscript on Ox3's super-excellent performance yesterday. In Season 6, Ox3 were splattered by Wessex C:

Oh dear. Last night's 2-2 draw was a massive improvement with a similar ~300 per board rating difference. Also notice Shambavi played the same opponent as in Season 6 with colours reversed, and this time picked up a draw – she must be pleased! (as is your skip)