Onliners, we recorded these results tonight: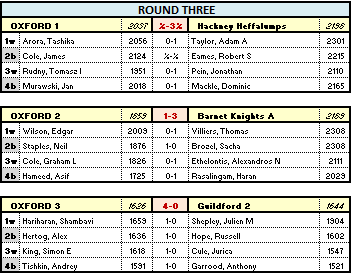 Our games are available for persual/analysis here.
Ox1: James held a difficult rook endgame. Skip thought Tomasz was doing well, a pawn up for a bit of suffering, but maybe skip was over-optimistic? The suffering was too much in the end and a rook dropped.
Ox2: No luck tonight as Ox2 were almost wiped out by a strong Barnet A team. Hopefully Ox1 will gain revenge in eleven days' time in real life! I liked the pairing Brozel v Staples – two super-nice chaps, but unfortunalely Sacha is also super-strong. Where did it go wrong for Neil? I suspect 18. … 0-0 which Sacha jumped on immediately with a quick king-side attack – by move 22 there were holes everywhere.
Still, at move 25 the opp skip opined "your guy's defending pretty well." And Sacha lost the thread of it somewhere, by move 31 it was Neil who held all the chips despite his king wandering around in no man's land and it was all over at move 41, as the king was back safe at home. What a game, Neil.
Ox3: No sooner had skip settled down to watch our games than Alex had won, a King's Gambit via Caro-Kann gone very, very wrong for White. Simon scored his first win after Black shut the door on his own bishop. Shambavi picked up an exchange – was it sacrificed rather than lose Pa7 at move 17? Later, she found Bxc5 Bxc5 b4 to hoover the c8 bishop and that was 3-0! Andrey dropped a piece to a (near-)Excelsior pawn which was only halted at h7 having gone f2-f4-f5-fxg6-gxh7+. Some chaos later saw White return the piece leaving Andrey well on top and he converted – 4-0! Well done, third-teamers!