Onliners, we recorded these results tonight: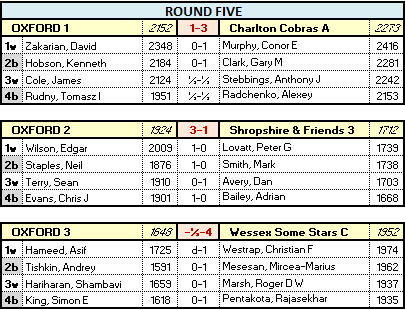 Our games are available for persual/analysis here.

Oxford 1: Kenneth played a Benoni, but it wasn't a Benoni as your skip knows it. The kingside pawns disappeared by move 21 and shortly after that the Black position had disappeared as well. How does that happen? Skip hopes Tashika & Dima have looked at this one for future anti-Benoni weapons? James foxed our kibitzers by starting a fake game 1. Nh3 before kicking off the real one! He wound up with a perpetual, as Tomaszgrabbed an early draw offer. David's game attracted a large crowd, well, as "large" as goes for online chess (12 kibbers). Some thrills & spills went opp IM Murphy's way, so 1-3 it was.

Oxford 2: After a prelude of multiple exchanges, Neil's king went up for the endgame in big style, but what on earth was White's king doing dozing on f1? His Majesty's arrival on e3 caused oppo paralysis. Three wins on the trot for Neil. Chris scored a back-rank mate variant and Edgar registered his first point of the season.

Oxford 3: after our unfortunate default, nothing went right. Andrey engineered a nice position with connected passers Q-side and his dark-squared bishop covering the queening square. Skip liked it, but less so the piece sac that followed when White managed to halt the passers. Still, a good effort from Andrey against one of the players who's regularly up near the top in 4NCL-O Opens, I'm sure he was worried at move 27.