Onliners, we recorded these results tonight: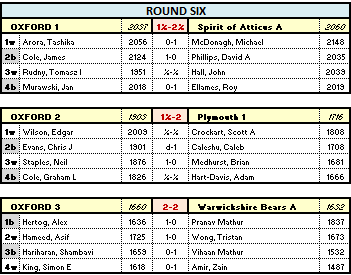 Our games are available for persual/analysis here.
Ox1: Tomasz took a perpetual; James beat off an enterprising queen sacrifice but there was no joy elsewhere, so a loss it was. It will be a nervous Round 7 as SoA join us on 4 match points. Tie-break rules will need to be re-checked closely by your skip before that.
Ox2: Graham got into a dead-level knight endgame but at the point where he took a perpetual skip felt he was on top? Neilmade it four straight wins but Edgar couldn't quite convert an extra piece. Elsewhere, events conspired against us, for Atticus conveniently forgot to submit their team for tonight and capitulated 0-4 to Guildford 1. Silly them. As Barnet Knights A also won that is goodbye, promotion.
Ox3: Asif was back and with a bang as he despatched his opponent who wasted too much time in the opening, castled "into it" and saw his a6 pawn executed. Alex survived some horrendous time-trouble to win. A 2-2 draw moves us up to 4 points but with leaders Dundee B on the horizon, we may need favours from tonight's oppo in Round 7.
Personal Scores
Neil is way ahead on the individual scores front, having 4.5/5 with Alex having 2.5/4, Graham, Asif & Jan 2.5/5, Chris 2/3.