Onliners, we recorded these results tonight: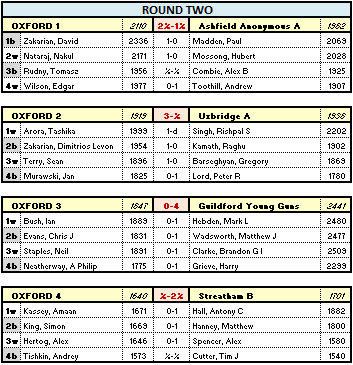 Our games are available for persual/analysis here.
Ox1Nakul suddenly picked up either rook or knight depending on which king went left or right. Tomasz drew, David found his knight threatened against his king h1, Edgar dropping a knight similarly.
Ox2 were quick with their wins and defaults. The Uxbridge board 1 player was not ready, theiir captain faux pas; Dimi & Seanadded wins for 2 & 3 to make it 3 v -0.5. Jan was taken a while before his queen was trapped.
Ox3 Shall we gloss over this week's games, and focus on two week's match against Harrow 1. Yes, that seem best for tonight.
Ox4 It was a long match, none of the games finished any soon. Suddenly all matches went in favour for Streatham B, only Andrey scored a draw with everyone else ended mate / lost queen.