Onliners, the League season resumed tonight and Oxford's three teams recorded these results: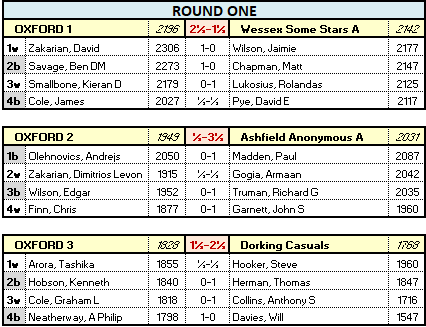 Our games have been gathered in here.
David kicked off the new season with a King's Gambit, his entire kingside disappearing in the first ten moves. That's what I call a King's Gambit! The other three games saw high drama: Ben was booked for a draw in a totally stodgy endgame, K "couldn't lose" while James's opp blundered a piece very early doors so I'd earmarked a win there. None of the games went that way: Ben somehow won his utterly-dead endgame, K likely made the same miscalculation skip did [40. … Re2], and he did lose, and James had to dig in manfully to create a fortress just to save his game. It's a win, but chaps, can you please make it less hair-raising next time?!
Ox2's match with Ashfield was an immediate re-match of Season 1 Round 10. We "had" them last season but they wriggled out with a 2-2 draw. They had us this time; unfortunately we couldn't wriggle out, Dimitrios scoring our only draw – his first-ever draw in the 4NCL-O League.
Like Ox2, Ox3 had drawn 2-2 with tonight's oppo in Season One. Phil's connection stood up well and he was our only winner; Tashika looked likely to follow suit but her opponent whipped up too much counterplay.