Onliners, Oxford's three teams recorded these results tonight: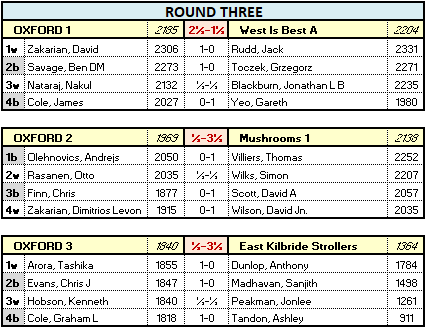 Our games have been gathered in here for perusal.
Ox1: Skip understood absolutely nothing of David's game, other than that he won. Better minds than his can explain it for him. Nakul made a well-timed draw offer; I daresay he had one eye on Ben's game where an (accidental?) exchange sacrifice worked out well and Ben had 2B+P for R. He duly converted and that's nine match wins on the bounce, six of them (including the last three ) being 2.5-1.5. Surely this form can't last?! We must enjoy it while we can: currently second on goal difference in Pool B. Next up are bottom-of-the-table Wood Green Youth but that doesn't guarantee anything.
Ox2: No joy again for the seconds, debutant Otto averting the whitewash on this occasion with a perpetual. The next four rounds look winnable, and we must remember that Ox1 lost four straight at the start of last season before recovering to third place. All hope is not yet lost!
Ox3 scored quick wins of differing lengths on the top two boards. Tashika's 19. Re1 looked like a defensive move and her opponent forgot about his queen being a bit stuck. Ironically his passer on c2 shut off the only escape square for Her Majesty (albeit 20. … Qc2 21. Rac1 is still a problem). Graham benefitted from a strange piece donation by his opponent. His final position was King's Indian heaven. We remain third in Pool B, chasing Dorking and Bolton.