Onliners, Oxford's three teams recorded these results tonight: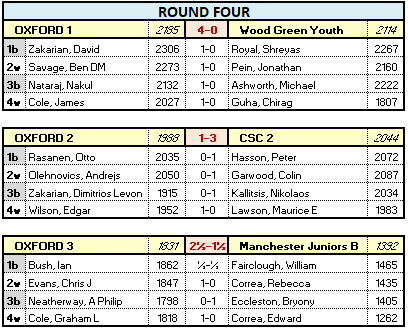 Our games have been gathered in here for perusal.
Ox1 made it ten wins in a row: James won a piece early in his game (second time he's done that this season!), Daviduntangled a slightly passive position to win his board 1 game against England's next-big-thing, and Nakul enjoyed a positional win. Skip enjoyed it too! Ben had a "boring" Exchange Slav (by transposition) that turned into an interesting R+N endgame; he wrestled the initiative and made the final score 4-0, the first time Ox1 have ever managed that scoreline in 4NCL-O. Well done, troops! As your skip writes, one game remains in the White Rose match: if Jonathan Blackburn can win B+5 v B+4, Ox1 go to the top of the pool.
Ox2 are, conversely, still to get off the mark for the season. Edgar had a nice win but skip can't work out what went wrong in Dimitrios's game. He suspects – with no computer analysis – that swapping his black-squared bishop may have been fatal, even as early as move 12.
Ox3 won their White games easily enough but the Black games proved more problematic. Ian's endgame provoked lots of spectator comment as he found a nice fortress, the White rook trapping itself on h5. Discussion centred around whether White could break it by playing Ke7 and Rg5+ at some stage, but your skip didn't believe it.