Onliners, Oxford's three teams recorded these results tonight: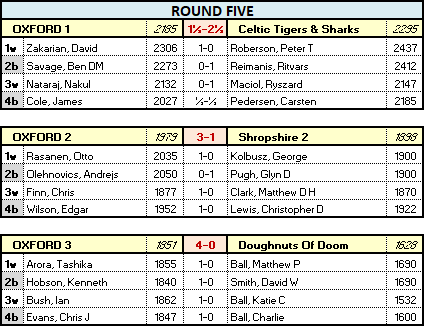 Our games have been gathered in here for perusal.
David's unexpected piece sacrifice caused his IM opponent to go into a HUGE think. For the second round running, skip understood none of the action in his game other than that he won. He was our only winner as Ox1's ten-game streak comes to an end – but, hey, not even Magnus can keep streaks going indefinitely.
An early comment came in from a spectator: "we are having all the luck tonight, with Otto, Ian & Chris E all having generous opponents". All three of our chaps were beneficiaries of piece donations – takebacks? They are allowed for particularly obvious mouseslips and I'd like to think we are fairly generous in this matter, but the official position is that "it's part of the game" if a mouseslip occurs. It is always up to the player as to whether or not to accept or decline a takeback and I'll always back your corner either way.
Anyway, Ox2 enjoyed a comfortable win to get off the mark for the season while Ox3 gave their goal difference a boost, winning by the maximum with Tashika & Ian finishing their games elegantly. Skip liked 38. Rc8+ or 38. Bc4+ chez Tashika, but 38. Bh7+ was just as effective.
Streaming
Ben's opponent showed as "streaming" early in his game. This is not allowed, I raised the matter with the arbiters and the opp was told to stop printo. Note for reference: do let me know if your opponent is streaming and I'll escalate. I'll probably already have noticed anyway.