Onliners, Oxford's three teams recorded these results tonight: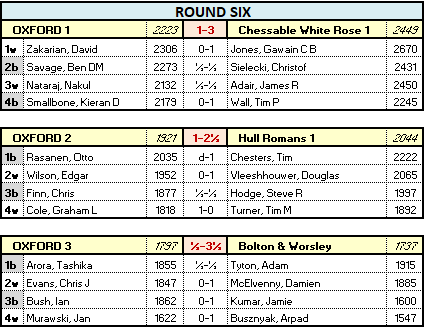 Our games have been gathered in here for perusal.
Most interest centred on Ox1's match against White Rose, and particularly David's game against GM Gawain Jones. There was quite a crowd watching to see if a kitchen sink would land. Annoyingly, those pesky 2600+ GMs always seem to have everything covered and David's attack sadly petered out. Ben & Nakul achieved creditable draws against IM oppo and 1-3 represents a decent result given we were outgunned by 220 per board.
For the first time ever, an oppo skip queried the LiChess IDs of Edgar & Chris F in Ox2: with Edgar's handle being Finn78 and Chris's surname being Finn, he suspected subterfuge was going on! Chris achieved an easy draw. Graham kept the spectators entertained for a long time without ever really knowing who would win until move 60..
There was calamity in Ox3 as our quick-movers capitulated with White, Ian blundered a piece and it was down to Tashika to avert the whitewash, as an eminent spectator predicted as early as 20:15 she would need to do.