Onliners, Oxford's three teams recorded these results tonight: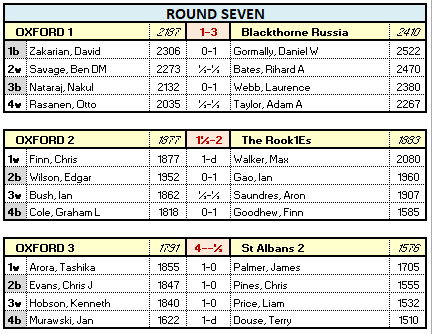 Our games have been gathered in here for perusal.
Ox1: Nakul went down a KID line that skip hates to run into as Black and is the single reason he gave up the KID 20+ years ago. The position at move 20 does not tempt him to take it up again. Why is it White ends up with this loose pawn on e6 and the thing survives to cause havoc in the Black position?!
Otto took a draw by perpetual check, David seemed to be doing OK until something went awry in the endgame. These GMs are tricky oppo. Ben did everything possible to win his game but his IM opp knows a thing or two about R+P v R and held it.
Defeat drops Ox1 down to fifth in Division 1 after threatening the championship briefly. It's a good result in skip's book and I'm pleased we were never in relegation trouble.
Ox2 were beneficiaries of an oppo default on top board, Chris F being the lucky recipient. You may remember Round 6's oppo skip being confused at Finn78 not being Chris Finn. The Rookies fielded someone called Finn on board 4, causing Ianto exclaim that his board was "the only Finn-free zone". Anyway, despite that generous start Ox2 contrived to lose 2 v 1.5 – it's been that sort of season. Better luck in Division Three! Ox3 won super-quickly as Tashika won a piece in the opening, Chris E bagged a rook early doors and Jan's opponent failed to show. Match well and truly over by 20:00. Kenneth was positively pedestrian by comparison, only finishing at 20:33. Ox3 finish at least third in the Pool and await the Dorking v Bolton result to see if we join Ox2 in Division Three next season.