All, these are our results for Round 4: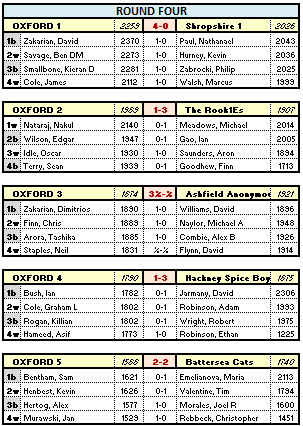 Our games are available for scrutiny here.
Ben's game was all about stopping nasty sacrifices on g4. Black did eventually throw his knight onto that pyre, but only to save Her Majesty. K's quirky 20. … Bc1 is worth a second look as Ox1 scored the maximum.
Skip has an odd feeling he saw Oscar win an exchange in a Congress recently with a near-identical Nf5 move attacking Q & Ne7+ fork. Deja vu, if he's right. It was the only bright spot in a match loss; Nakul may feel better that his blunder didn't cost Ox2 anything.
Ox3 scored a useful win against top-of-the-table Ashfield Anonymous B: 1800s > 1900s. Guildford Gatekeepers are keeping pace on maximum points but Ox3 are top of the Pool for now.
Ian had the misfortune to run into the oppo 2300 number – "he's listed in chessboxing, glad this is online" was his verdict. Asif's Kings Gambit victory was the only bright spot. Skip disliked Graham's early exchange sac but Graham did achieve a promising-looking endgame. Something went wrong in there, skip knows not what.
Ox5's senior pair lost to higher rated oppo but skip was super-pleased with juniors Alex (who scored a nice pawn mate after his opponent risked keeping the queens on with a wide open king) and Jan (who controlled his game very well – almost Oscar-esque).