All, these are our results for Round 5: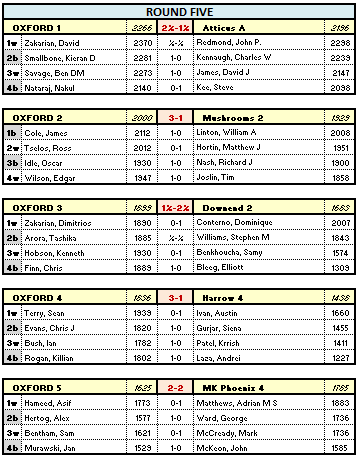 Our games are available for scrutiny here.
Ox1 secured Division 1 safety, skip reckons, with victory over Atticus A earned by a standard K win and Ben's win on time in a near-winning position.
Ox2 leapfrog their opponents in the Division 2 Pool D table with a useful win. Caro-Kanner skip was pleased to see the Blackmar-Deimar Gambit decimated by James on top board. Oscar's win takes him to 4/5 for the season.
Ox3's promotion aspirations took a hit as we went down to Downend 2. Chris F extended his winning run to 4, he's on 4.5/5 for the season, but there was little to cheer elsewhere.
Ox4 were in the metaphorical clubhouse early, winning 3-1 with skip liking Killian's game.
For the second round running, Ox5's juniors earned a 2-2 draw as their older colleagues ran into little tactics mid-game – well done to Jan & Alex. They are both on 4/5 for the season.