All, these are our results for Round 7: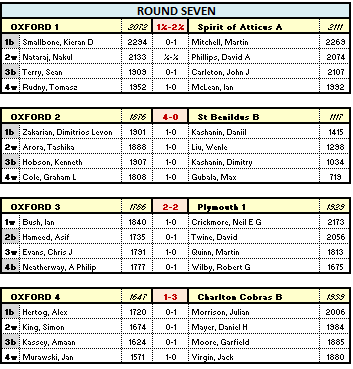 Our games are available for scrutiny here.
Ox1: Who knew utter madness could occur after only 13 moves of a French Exchange? Tomasz went pawn-grabbing, invited Black to have a go at his king and calmly parried all sacrificial attempts. Nakul looked good for a while but ultimately had to settle for a draw. How are Broadland Kestrels doing? Sadly they are sunk, for their board 3 defaulted and their board 4 has lost, so -½ v 2 as skip types and that means Ox1 are down.
Ox2: Dimitrios was quickly in the clubhouse, delivering mate at move 22. After Kenneth had also won, Tashika brought home the match after quite a scare when her opponent achieved a strong position in the middlegame, the knight on d2 being a thorn in her side for some time. Well done her. Graham drew admiring comments from the kib early in his game as he wrested the two bishops and a pawn from his oppo in the early middlegame and he completed the whitewash. All to no avail for the three teams ahead of us all won so Ox2 finish fourth.Ox3: Chris was quickly in the clubhouse as he flattened his opponent, reaching 5½ from six games for the season. WIth Asif's game going horribly wrong early doors (his season score of 2/6 feels to skip more like 4/6) Phil made an enterprising attempt to win his game with 40. … Nb4. That too went wrong somewhere (perhaps 42. … Rc2 instead of Kf7?) and it was left to Ian to rescue the match, which he did to "nerves of steel" comments from the kib. Results elsewhere mean Ox3 also finish fourth (in a three-way tie for second).
Ox4: Jan's game had ebb and flow, he picked off both the oppo's rooks on their starting squares before Black countered with a dangerous-looking kingside attack. A rook sacrifice led to mate and leaves Jan's perfect winning record intact. Terrific season, Jan! Everyone else went down so we must wait and see if nine points is sufficient for promotion. Skip thinks not, but he would like to put on record that Ox4 have done far better than he expected them to do.
End Of Season Player Stats (all from six games unless stated)
Jan 6, Chris 5½, Dimitrios 5, Ian, Graham 4½, Nakul 4/7, Neil 3½, Tashika 3½/7, Amaan 3, Phil 3/5, Kenneth 2½/4, Tomasz, Sean 2½, Asif, David 2, Simon 1½/3, Alex 1½/5 and we will stop there.