Onliners, these are our results for Round 6: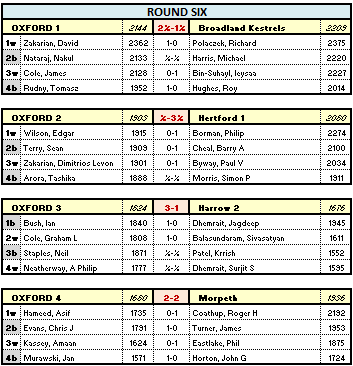 Our games are available for scrutiny here.
There was pre-match panic when the 4NCL software somehow transposed James & Nakul. We have no idea what happened but skip knows something strange also happened in the Kestrels 1 match where the wrong board 3 showed in the pairings – that game didn't start until 20:08! Apologies again to James & Nakul. Someone will investigate.
On the pitch, David enjoyed a quick win over his IM opponent. He's in good form having co-won the Scarborough Open with 5/5 at the weekend. Tomasz may have been inspired by K's win last round: he similarly grabbed a pawn (ok, two) and held onto them, scoring his first win of the season. Nakul then settled for a draw in a better position to secure the points. A good win for the first team, assuring Division 1 chess next season!
Ox2's fortunes dipped when Dimitrios, hitherto on 4/4, ran into a fork. That set the tone for the match and Tashika salvaged our lone half-point when her opponent made a generous draw offer. With Wessex C & Kestrels 2 winning, Ox2 drop to fourth in the Pool.
Ox3: more strange happenings elsewhere as top-of-the-Pool Shropshire & Friends 2 defaulted. Apparently they had a team but their captain failed to enter it online – though he successfully entered his other six(!) teams. Ian & Graham had late wins to complement draws lower down. The division order is unchanged but much tighter: S&F 2 9, Plymouth, Ox3, Phones Pals A 8. All to play for in Round 7!Ox4:
Chris continued his unbeaten season, picking off White's undefended bishop with a fork. He's on 4½/5 for the season. Jan is doing even better, on 5/5 – 36 … Bb1+ was a neat finish. Losses on the other two boards pegged the team back to 2-2; your skip thought Asif had a terrific game and deserved more for his efforts. Ox4 remain in the top 8 and have a big Round 7 match for promotion.