All, these are our results for Round 5 – two match wins, one draw, one loss, all very close: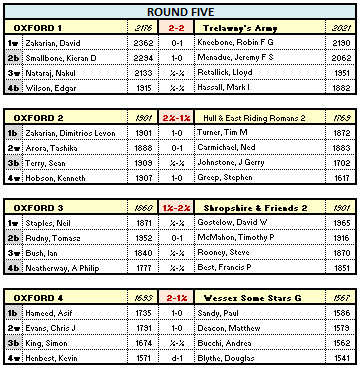 Our games are available for scrutiny here.
Ox1: an early commentator expressed disappointment at missing out on Smallbone v Kneebone. The former returned to active duty with another one of those games of his where skip thinks there's a plan going on but knows not what it is. The plan proved very effective.
Ox2: skip had hardly settled into watching our games before Kenneth mated his opponent in 13. Dimitrios came up with some great defence after his opponent initiated a rapid attack – 23. … c3, 24. … Bxe2, 25. … Bh5 was terrific, skip thought, and he eventually beat off the attack to join Jan on 4/4 for the season (one sitout each). Results elsewhere mean Ox2 & Hertford 1 are top of the Pool with 8 points each; Round 6 Ox2 v Hertford 1 is a big match.
Ox3: Ian gave our celebrity kibitzers plenty of entertainment, eventually drawing an opposite-bishop endgame. Comment of the evening was "It was clever of Ian to get opposite coloured bishops in anticipation of him going from a pawn up to a pawn down". Draws also on 1 & 4 (skip thought Neil was doing well after his exchange sac – another one!) left the match in Tomasz's hands; sadly his opponent got in first.
Ox4: we had the minor disaster of a player going AWOL at work but the rest of the team made light of that, Chris playing a lot of moves quickly and winning just as quickly. Simon let his opp slip through his fingers leaving Asif to win the match. That sounds simple but it wasn't: in the middlegame Asif's army became rather disparate and White seemed to have lots of play. In the final position Asif had got his queen and rooks organised and he'd held onto his extra pawn. Simon & I reckon White's resignation was premature, but I'm sure Asif was pleased with his hard-won point!