Onliners, these are our results for Round 4 (three match wins, one defeat):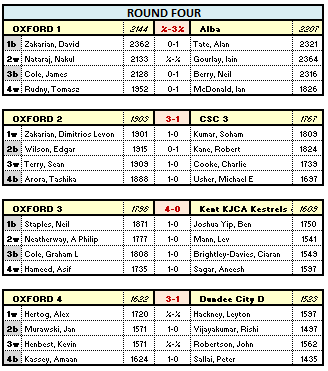 Our games are available for scrutiny here.
There was little joy for Ox1 against a strong Alba outfit. Nakul defended heroically, skip admiring 48. Qd1 getting his king out of trouble, for a well-deserved draw.
Sean got Ox2 off to an explosive start with a rapid attack – his pawns arrived on h6 and g6 in no time at all and a spectacular queen Greek Gift mated the opposing king. Brilliancy!! Dimitrios & Tashika made it 3-1, Tashika finding a clean finish with 34. … Rb1.
In Ox3, Phil N & Asif took advantage of oppo miscalculations in the early middlegame to have us 2-0 up within an hour. Don't people know to push kings up in the endgame? Graham reached a knight endgame at move 24 and White's king proceeded to sit lazily on h1 for 23(!!) moves, watching his trusty steed do quite a lot of galloping. By the time His Majesty stirred to life Graham had established a winning passed b-pawn. Neil's game attracted quite a lot of "expert kibitzer" commentary. The consensus was that his exchange sacrifice always had adequate compensation and maybe more.
Ox4: Amaan reached a BB+pawns v NN+pawns endgame. Bishops > knights, at least in this case where both steeds perished leaving BB+pawns v nowt+pawns. New British Under-10 OTB champ Jan's game finished abruptly when his opponent missed the threat.