All, these are our results from the second round just completed.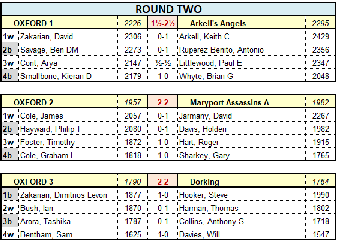 Skip has taken up K's lichess study tip and created one containing all twelve games, all showing colour-wise from the Oxford perspective. Our three teams provided plenty of entertainment (well, they did for your skip – bear in mind he hasn't switched on the engine):
Ben's opponent produced a bishop sacrifice that looked like a quick mate. Ben did brilliantly to wriggle out of it before eventually succumbing to a king+queen fork that happened to trap the king as well.
Arya grabbed a couple of rather hot Q-side pawns in a super-complicated 30-move draw with IM Littlewood.
Tim's game finished before team-mate Graham had reached move nine. Early opening carnage saw him pick off a rook at move 13 and the players galloped to move 40 thereafter, finishing around 8pm.
There were swindles galore in our lower teams. Graham's opponent appeared to have a fortress at move 42 to secure the match, but perhaps he didn't realise he'd engineered one. All he had to do was sit there and wait. No, he got active and Graham pinched a win to square the match at 2-2.
It was even more dramatic in Ox3, where we found ourselves 0-2 down late in the day with no prospect of wins on boards 1 & 4: Dimitrios and Sam were both a pawn down in the endgame and skip was mentally chalking up 0-4. Both miraculously turned around their endgames, Sam playing moves 31-88(!) on the increment, and somehow Ox3 have drawn 2-2. Very exciting to watch, gentlemen.