All, these were our results from Round 6 just concluded. For the first time this season we achieved a clean sweep of wins. Our games have been gathered in here for your enjoyment, in board order as usual from top to bottom.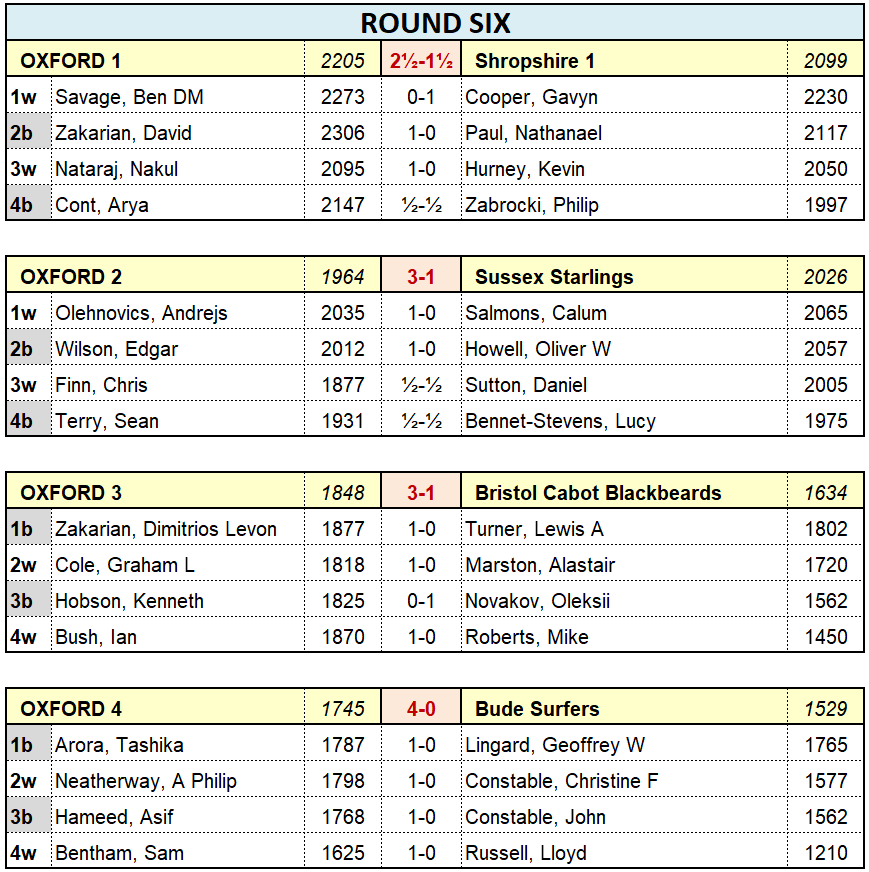 Ox1's win puts daylight between us in 6th and Shropshire / Atticus A in 7th/8th of Group B, but we're still 2 match points behind 5th-placed Gonzaga. Next up are Anglian Avengers 1 for whom Messrs Talsma & Lewis have a perfect record, 5/5 each.
Ox2 were flattered somewhat by the 3-1 scoreline. Andrejs scored an impressive win on top board but Sussex were pushing on all of the other boards. Chris & Sean put up the shutters successfully on 3 & 4 (skip thought Chris might have played a3 after move 38 in his K+P endgame purely for aesthetic reasons, not because it's any good), while Edgar was the beneficiary of a huge time-trouble blunder by his oppo.
Ox3's win puts them well into the top-of-the-group-D mix on 7, joint-second with Downend 2 and (probably) Harrow 3 as I write. It came down to Dimitrios's game and his speculative "all-in" piece sac caused his opponent to go wrong.
"Normal" service was resumed in Ox4 as we posted our third 4-0 scoreline in four – this is good for our goal difference. Sam set the ball rolling super-quickly before your skip had settled in to viewing mode: "an example of what not to do in this opening on the Black side", he says. Tashika won a strange endgame: at one point her K+B were stuck in the corner while all White's pieces were active, but later White contrived to clump all his pieces in the corner as the bishop woke up in time to support her passed h-pawn.