Onliners, we recorded these results tonight: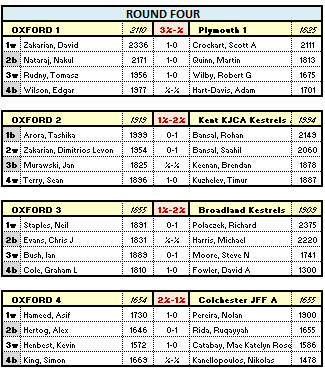 Our games are available for persual/analysis here.
Ox1: Tomasz's opponent missed a tactic. Or two. Or more. David was the fortunate recipient of his opponent's clock flagging while Nakul controlled his French game from start to finish. I'm going to reserve comment on our other French game!
Ox2: Sean's opponent is RUS. It transpires that 4NCL to block RUS / BLR players, after tonight – he was good for Round 4 but he'll disappear from the KJCA registration soon. Controversial! On the board, Sean hoovered the exchange at move 10 and that proved sufficient. The younger troops cobbled half a point and that's the third 1½-2½ scoreline for our seconds this season. Ho hum.
Ox3: Chris drew via perpetual check against a higher-rated number. Graham drew admiring comments from our kibitzers as he converted Q+pawns v RR+(less)pawns efficiently. The kibitzer wasn't so complimentary about Ian's Bh2 and that resulted in 1½-2½ for the thirds. Decent effort for the team, though!
Elsewhere in Division One, the Alba skip was scored 0-0 because he played Casual. We spotted that at 19:36. Their skip was apologetic: "my fault, I had even sent multiple emails to teammates reminding them not to send unrated challenges" !! Skip would love to see the Alba post-match report.
Ox4: Asif pulled off a double(!!) Greek Gift. Skip suspects the first Gift was faulty but the second Greek Gift 23. Be3 tempted Black's knight away from defensive duty at g4. That was fatal. Kev's oppo similarly had a g5 knight patrolling defence – skip was pleased to see that move to e6 and allow his rooks to infiltrate via e4 and h2. Simon got into a tricky rook endgame; had White tried to move his king near c7 after c6-c7, he'd have some pressure. Thankfully White swapped the dangerous c7 pawn and Simon held easily.