Onliners, we recorded these results tonight: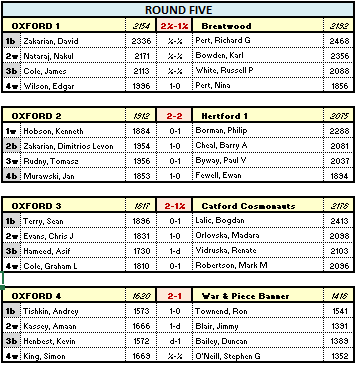 Our games are available for persual/analysis here.
Ox1: skip took his eye off the games for a few minutes and suddenly boards 1-3 had all drawn, leaving Edgar in a thriller against young Nina Pert. His huge c6 pawn plus bishop pair gave him the advantage and he converted in front of the crowd – a terrific win, troops! Blackthorne won, so we're a point behind them with Blackthorne also having "goal-difference" and "head-to-head" advantage. We have to try and turn over Wessex & Atticus and hope they slip up.
Ox2: after White losses on 1 & 3 skip was pessistimic: Dimitrios faced a strong passer b-pawn while Jan faced a strong attack (32. Ne5, 33. Nf7+, no?). 0-4 was on the cards. No, White went wrong, dropped his knight and Jan scored a … flukey? … win that skip had long since inked "a loss". He was pleased to employ his ink-eraser. That encouraged Dimitrios to push hard to win QN+2P v RR+2P: he won and Black scored a clean 4-0 sweep, 2-2 on the night.
Ox3: Asif was quickly off the mark with a default against a WFM. Chris extended his excellent winning run, defeating a 2100 number and Ox3 were home and hosed. A kibitzer* gasped: "did Bogdan castle queen-side?" against Sean. He did, and he won – not a stodgy draw, hmm.
* (not our regular kib – was he disappointed to miss Ian?)
Ox4: boards 2 & 3 traded defaults, Simon cashed in a draw leaving our newly-promoted top board Andrey in a one-board match. He did not disappoint, winning the match and leaving the fourth a point behind chasing Streatham B & Dundee D.