Onliners, we recorded these results tonight: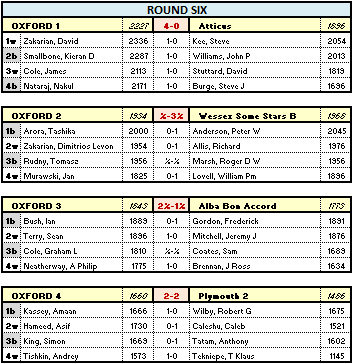 Our games are available for persual/analysis here.
Ox1: K defended a Panov Attack. Your skip's obsolete C-K book does not consider 13. … Nxc3 14. bxc3 Rb8 because, well, duh, obvs, it loses the a7 pawn. What does he know about modern theory? K won, on time. Nakul moved to 5/6 for the season after refuting an optimistic early Grob in the French. James, playing from somewhere in Europe, picked up a loose exchange. David calmly collected a few loose pawns & exchange then halted a desperate attack.
Ox2: not much joy as everyone was wiped out, Dima likely grumbling about "ruddy Benoni", he & Tashika running into OTB difficulties against that opening. Tomasz averted the wipeout. Ox2 need a win by 2 points better than Hertford 1 to stay up.
Ox3: Skip must apologise for putting Ian against the Scottish wonderkid, who last round tackled GM Hebden with aplomb. Sean produced a nice tic-tac to end his game and Phil scored his first win of the season with another tic-tac. So, Ox3 are relegated? No – is a miracle on the horizon? If Trelawny's Army do the thirds a favour and beat Catford Cosmonauts, a draw against Downend 1 sees the thirds hanging on to Div 1 status.
Ox4: Andrey quickly gobbled an exchange after his opp's rooks got into a tangle (4½/5 for the season). Asif seems to have lost connection. Amaan reached an opposite-bishop endgame where he had the extra rook, reducing the drawish tendencies of that endgame – 4/5 for him. A loss for Simon left us 2-2; the table is updated and we're in the same point as we would have had we won this match. Makes no difference, and promotion doesn't look likely because "goal difference" is the first tie-break and Ox4 are way way behind on that score.